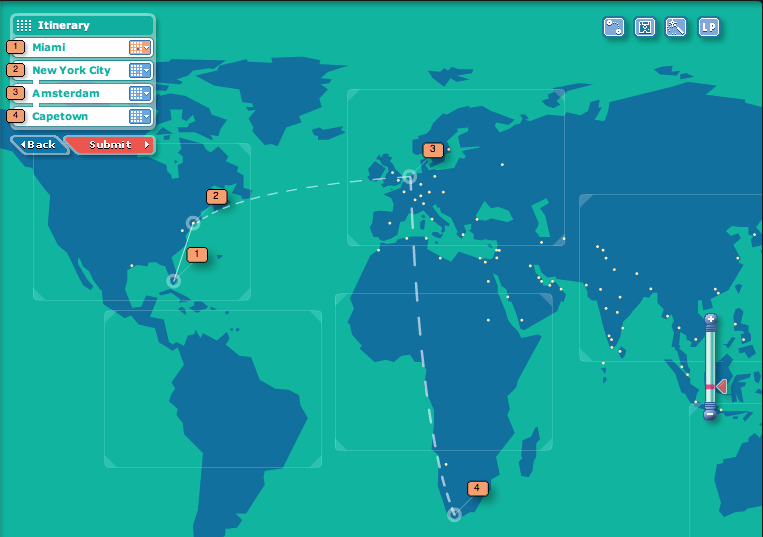 The time has come! and I am so excited/nervous. I have two LONG days ahead of me. Check out my flight itinerary.
Tuesday, September 22
Departs: 12:20 pm from Miami, Florida
Arrives: 3:27 pm at New York - Kennedy, New York
Departs: 5:40 pm from New York - Kennedy, New York
Arrives: 7:15 am at Amsterdam, Netherlands
Wednesday, September 23
Departs: 9:55 am from Amsterdam, Netherlands
Arrives: 9:15 pm at Cape Town, South Africa
OUCH. Thankfully I have a fully stocked Ipod and a couple of books to tie me over. I'm just hoping I won't have to sit next to a smelly person - young annoying child - obnoxious plane "talker" - a couple on their honeymoon. ::fingers crossed:: No offense if you're any of the above ;-)
I want to thank you all that have supported me with your donations/prayers/conversations. Its just incredible that I am able to do this. Its been a life-long dream of mine and to see it come to fruition is inspiring to me. I plan on updating here as much as possible with pictures and little tidbits. I was given a video camera for the trip, so you better believe there'll be a sweet mini-movie when I return.
I ask that you continue to pray for my team and I as we embark on this journey; for our safety and for us to be able to serve the community we'll be in with passionate hearts.
If you have some time tomorrow morning, feel free to holler. I'll be in the airport for quite a while with nothing to do. We'll chat it up ;-)
Stay tuned!